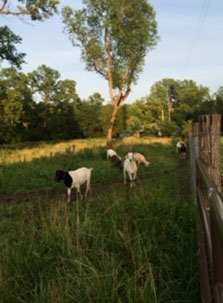 Homespun Hill Farm has raised many varieties of goats over the years, all for the purpose of natural brush control and pasture management. One breed, which we characteristically have become partial to, is the Kiko goat. We have found the meat flavor and yield to be very suitable for our likes.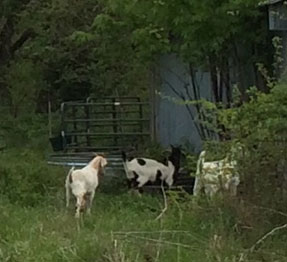 We have expanded enough to offer whole goat from young stock, in the late fall of the year.
You may have it cut in any fashion you desire, or choose the standard cuts (which are the same as in Lamb): Loin chops, Leg of Goat, Shoulder Roast, Rack of Goat, Ribs, Stew, Ground, Shanks, Neck Bone, Liver.




$270.00 for a whole Cabrito/Goat plus processing costs of $110.00.
($100.00 deposit confirms your order. Payable to Homespun Hill Farm, 137 East 1400 Road, Baldwin City, Ks. 66006).


| | | |
| --- | --- | --- |
| Ground | | $9.75/lb |
| Loin chops | | $16.50/lb |
| Boneless Leg | | $13.50/lb |
| Rack | | $16.50/lb |
| Ribs | | $13.50/lb |
| Stew Kabobs | | $13.50/lb |
| Shanks | | $7.00/lb |
| Liver | | $5.00/lb |
| Neck Bones | | $5.00/lb |
| Broth-making carcass bones | | $5.00/lb |
| Fries/Oysters | | $5.00/lb |
| | | |