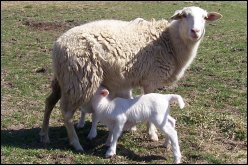 You will find, like our grass finished beef, that our grass finished
lamb has a lot less fat than grain finished lamb to cut away from
the outer edge of the cuts. The added bonus is that when you
are paying by weight, you are paying for more actual meat than
fat.
Our whole lamb orders are very popular, so we take and reserve orders on a first come/first serve basis. Individual cuts are available on a limited basis as supplies are available.
$270.00 for a Whole Lamb, plus processing costs of $110.00.
($100.00 secures your order, payable to Homespun Hill Farm, 137 East 1400 Road, Baldwin City, Ks,. 66006).
You may have your whole Lamb cut in any fashion that you desire, or choose the standard cuts.
Standard cuts are: Loin chops, Boneless Leg of Lamb, Rack of Lamb, Lamb ribs, One Shoulder Roast and the other shoulder as tender Stew kabobs, Ground Lamb, Lamb Shanks, Neck Bone, Lamb Liver.


For both Beef and Lamb, you will find that grass-fed yields more actual meat versus grain-fed, due to a lot less fat on the carcass. You get more for your money than grain-fed.