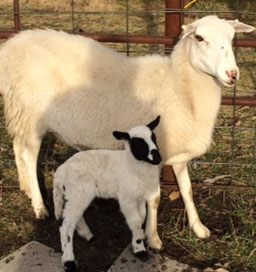 Farmer Debbie, aka the American Lamb Lady of Homespun Hill Farm, is fortunate enough to shepherd the rare breed of St. Croix, which were brought into the United States from the tropical island of St. Croix. They are very well adapted to the Kansas summer heat and humidity and grow a layer of wool for Kansas winters, but shed it in the spring for the local birds to use as nests. Parasite resistance is what St. Croix sheep are well known for.
St. Croix ewes are wonderful mothers, often birthing twins and occasional triplets. Over the years, we have shepherded several breeds of sheep, and we have found the St. Croix to be low-keyed (not flighty) easy-keepers in comparison, not requiring clipping and shearing, tail-docking, vaccinations, dewormers, nor dehorning.
We have both rams and ewes available for sale on a first come/first serve basis, ready to be introduced to your existing breed or to begin your dream farm starter herd. Contact Farmer Debbie for pricing and availability.